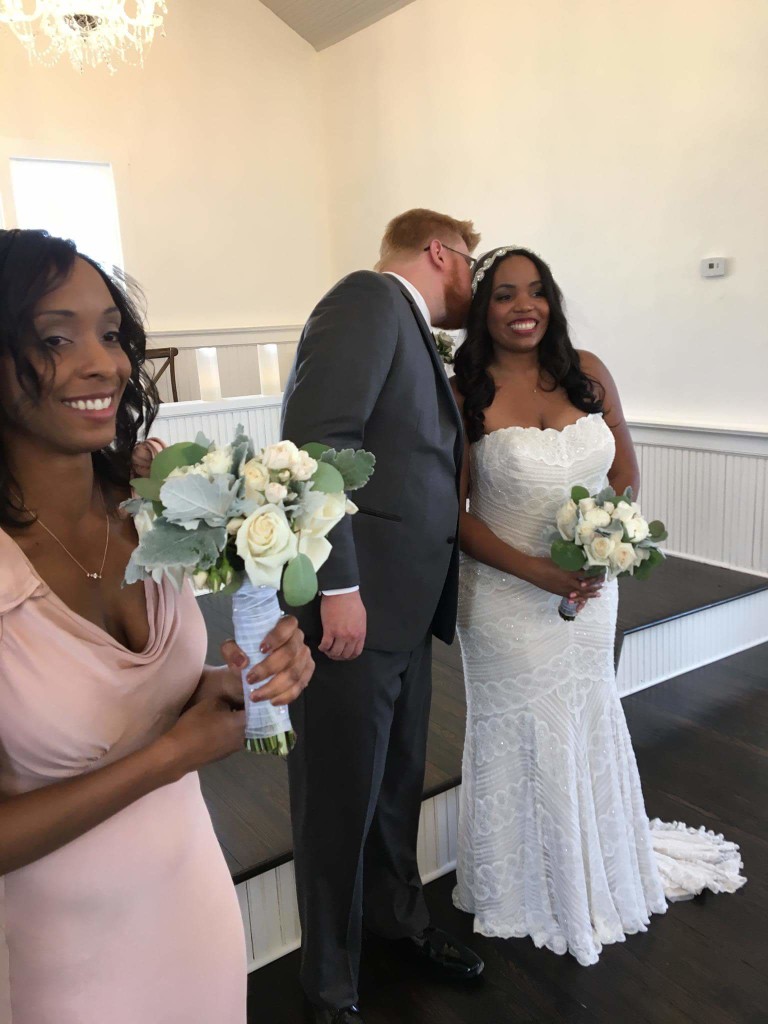 We had always intended our wedding to be a simple and intimate affair. A year or so before we got engaged, I remember telling Jason everything that my ideal wedding would entail- a small guest list, local ceremony, no garter and bouquet toss, and a reasonable budget. When we got engaged the following year, those same desires held true. An 11:00am wedding ceremony and lunch reception perfectly suited who we are as a couple and gave us the freedom to focus on what was truly important- celebrating the beginning of our new life simply and openly with our family and friends. We enjoyed ourselves to the hilt at our wedding and would choose to do it the same way all over again. Here's a look at why a morning wedding was the right choice for us and might be right for you too!
Less time to be anxious. It was barely 12 hours between the end of our rehearsal dinner the night prior and our first look the next morning. Jason spent the night at our apartment, while I stayed at the Alfond Inn. Being separated for more than those few hours before our wedding would have driven me crazy! I was ready to see him the moment I opened my eyes on our wedding day.

Morning light. Tons of dreamy morning light in the courtyard at The Alfond Inn. Our first look was alternately bathed in soft shadows then gleaming with the promise of a beautiful day. During the ceremony, sunshine streamed through the chapel windows.  I can't emphasize enough how enchanted we were by the glittering freshness, the newness of it all. It was so romantic that I get chills writing about it even now. Do it for the photos and for everything that mornings stand for- life made new, a fresh start. There is a reason people repeat the phrase "Joy comes in the morning."

Vendor availability! My fiancé and I were engaged a total of 8 months, but we didn't get serious about planning the wedding until we'd set a date that was 3.5 months out. If we'd decided to get married on the ever popular Saturday evening, we would have had to wait much longer for vendor availability. Our musicians, officiant, and hair stylist would most likely have been booked, as well as the chairs we selected from Orlando Wedding & Party Rentals. It's crazy how far in advance vendors and venues get booked (12-18 months)! Scheduling our vendors early enough in the day allowed them enough cushion to turn around for other weddings and events in the evening. So even though I was awake by 5:00am and had a 6:30am call time for hair and makeup, it worked to our advantage to get an early start.

Venue availability. We were so lucky that the Winter Park Chapel I had my heart set on before we were even engaged was wide open for the date and time we selected. If it had not been available, it would have derailed our wedding timeline since there is nowhere else I could have fathomed being married. Apart from the chapel, another bonus is that we had our entire reception venue to ourselves. We chose a lunch reception at Fleming's Prime Steakhouse, which meant we had full use of the main dining room for our party of 63 rather than a smaller private room. We were able to comfortably fit all of our guests, our 2 musicians, and a cake table with room to spare. Lucky for us, there was no extra charge for the use of the main dining room, since the restaurant normally opens at 4:30pm for dinner service. Our reception began around 12:30pm and we were out by 3:00pm (ok, we may have run a few minutes over!).

Lunch menu options are considerably less expensive. The Fleming's event menus start at $35/person for lunch and go as high as $119/person for dinner. We chose to offer a burger as our red meat option. However, if we'd opted for an evening reception, we would have had to select from pricier red meat options like filet mignon or ribeye.

Time to spend together. We left our reception around 3pm and spent the remainder of the afternoon opening gifts in our hotel room, basking in the newlywed glow, and reliving the day while it was all fresh. We then took a nap, ordered room service, then took an evening walk down Park Avenue. The next morning we woke up feeling fresh and ready for an early breakfast with our out of town friends!

No pressure to dance if it's not your thing. We skipped the DJ, garter, and bouquet toss. Instead, we had a string duo from the Classern Quartet play at both our ceremony and reception. Without dancing and the accompanying traditions, we had enough time to talk and take pictures with all of our guests after the meal was served. The only other entertainment we had was a slideshow that our families put together. It somehow featured my husband and I in photos with nearly every guest who attended our wedding. And of course, we had toasts by the maid of honor & best man.

A casual and intimate vibe. We felt more than ok NOT taking too much creative license with the look and feel of our wedding. In fact, our wedding coordinator advised early on to get off Pinterest and limit the décor and DIY projects. Since our ceremony time was different from the norm and less formal, we felt comfortable sticking to simple decor. No uplighting, no dramatic florals, just us, the chapel, and that gorgeous morning light.
BONUS Reason: We kept our bridal party small. Just 2 attendants! You can read about why in this post.
More Wedding Posts: Our Ceremony Highlight Reel